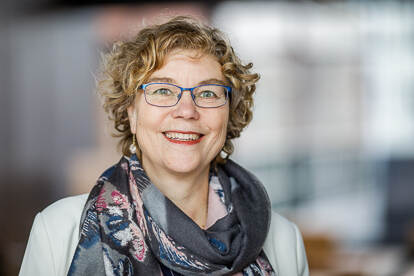 Professor Mirjam van Reisen
Role

Chair, Development Cooperation Committee
Professor Mirjam van Reisen (b. 1962) is a professor at the Science Faculty of Leiden University, the Leiden Institute of Advanced Computer Science and the Leiden Centre of Data Science. She holds the chair in Computing for Society and is a professor in the Culture Studies Department at Tilburg University's School of Humanities and Digital Sciences, where she holds the chair in International Relations, Innovation and Care.
From 2010 to 2015 she held the Marga Klompé Chair at Tilburg University. In 2014 Professor Van Reisen was presented with the Golden Image Award for 'peace-building and development' by Liberian president Ellen Johnson Sirleaf.
Professor Van Reisen began her career in 1988 at Radboud University Nijmegen's Peace Research Institute, where she remained until 1997. From 1991 to 1995 she worked at Oxfam Novib as a political adviser on international UN and EU policy. From 1999 to 2001 she worked for the European Parliament as a political adviser on development cooperation. 
Other positions
Director, Europe External Policy Advisors (Brussels)
Coordinator of international research network Globalisation, Accessibility, Innovation and Care (GAIC)
Member of the Managing Board and member of the Select Remuneration Committee of the Netherlands Development Organisation (SNV)
Member of the Board, Philips Foundation
Secretary-General of the international foundation Europe External Programme with Africa (Brussels)
Coordinator, GO FAIR Implementation Network Africa
Founding Chair of the International Board, Institute for Peace-Building, Rehabilitation and Development, Ethiopia
AIV Advisory reports
Over the past five years Professor Van Reisen has contributed to the following advisory reports: